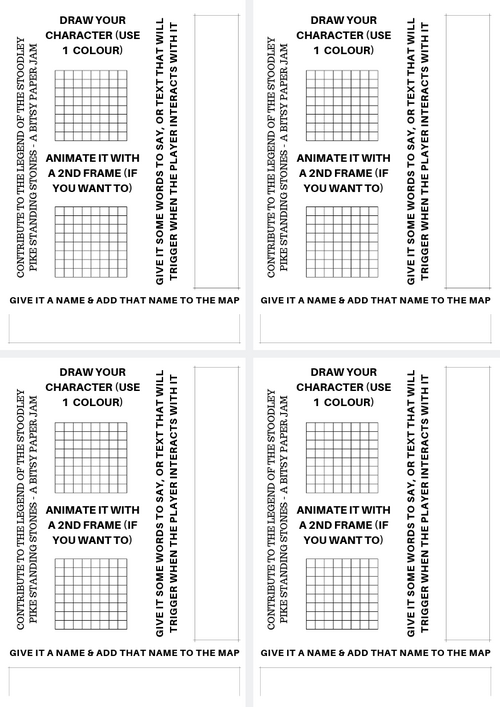 This Bitsy collaboration project was created in its hand-drawn form during an hour long workshop at Feral Vector in May 2019. The idea behind it was to give people the opportunity to contribute to a group game around a particular theme in an easy way and without the need to have access to a computer at the time. After the event I turned it into the Bitsy game you can see on itch.io, with everyone's contributions.
I chose the Stoodley Pike theme as Feral Vector is a game event based in Hebdon Bridge in Yorkshire, and a local landmark is The Stoodley Pike Standing Stones. Local folklore suggests that eerie lights can be seen when the stones are moved, and there have been tales of UFOs in the area. This seemed like a fun idea to base the narrative of the game on.
How did we do it?
1. I hand drew this map (A2 size) beforehand - at the start of the workshop it only included representations of road, rivers, wooded areas and town names., and did not include character names eg bee boop.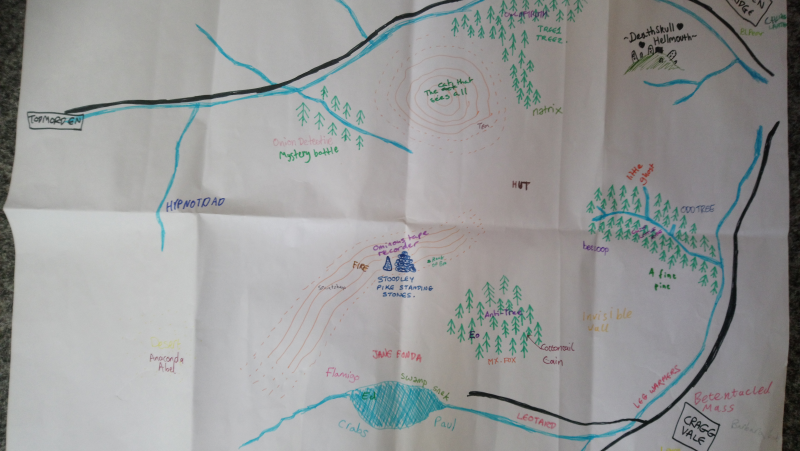 2. When the workshop started I told everyone attending (about 15 people) about the legend of the Stoodley Pike standing stones, and the plan to create a hand drawn Bitsy during the workshop based on the legend. For those who had no idea what a Bitsy game was, others were able to explain and show them examples of Bitsy games on their phones.
3. Contributions. The way Bitsy is structured you create 8x8 single colour characters that either act as scenery, sprites or items that you can interact with - by triggering dialogue when you bump into them with your player character. With that in mind, I created and pre-printed blank character sheets (below) - most were a quarter A4 size and some at A4 size. On these sheets contributors could draw their Bitsy character sprites, write a bit of dialog that would be triggered in the final game, give them a name and then write that name on the hand-drawn map. By default, Bitsy allows 2 characters of frame animation (hence the option to draw a 2nd character frame on the sheet).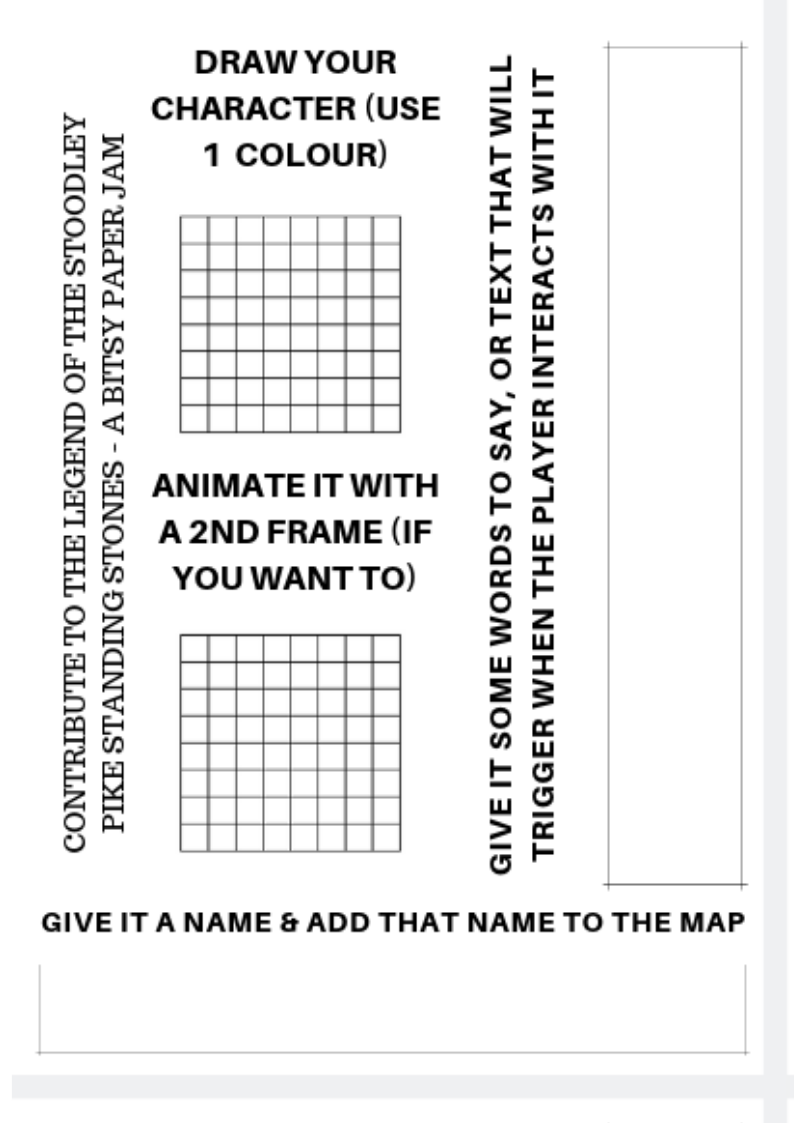 Here are a few characters that contributors created.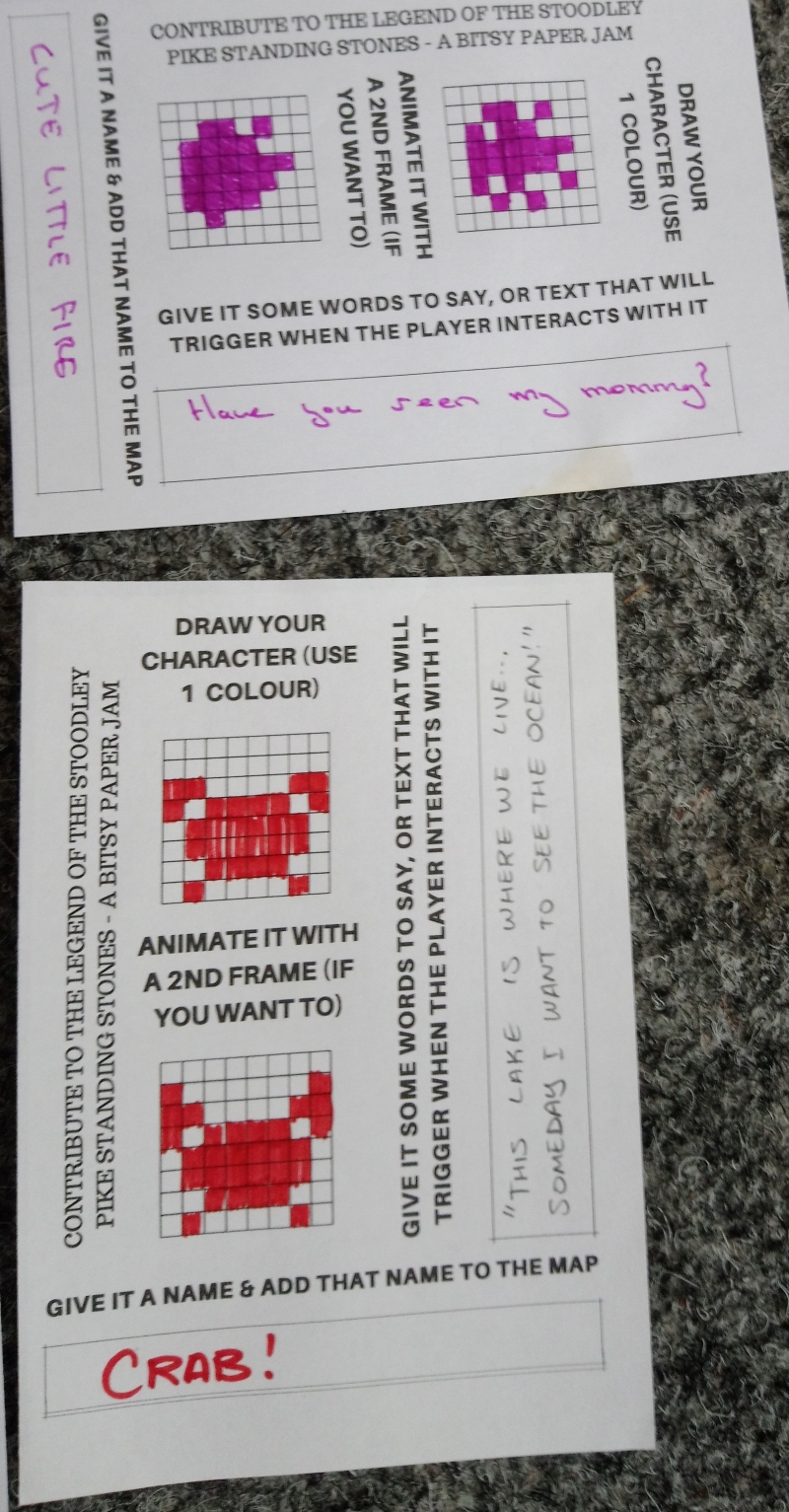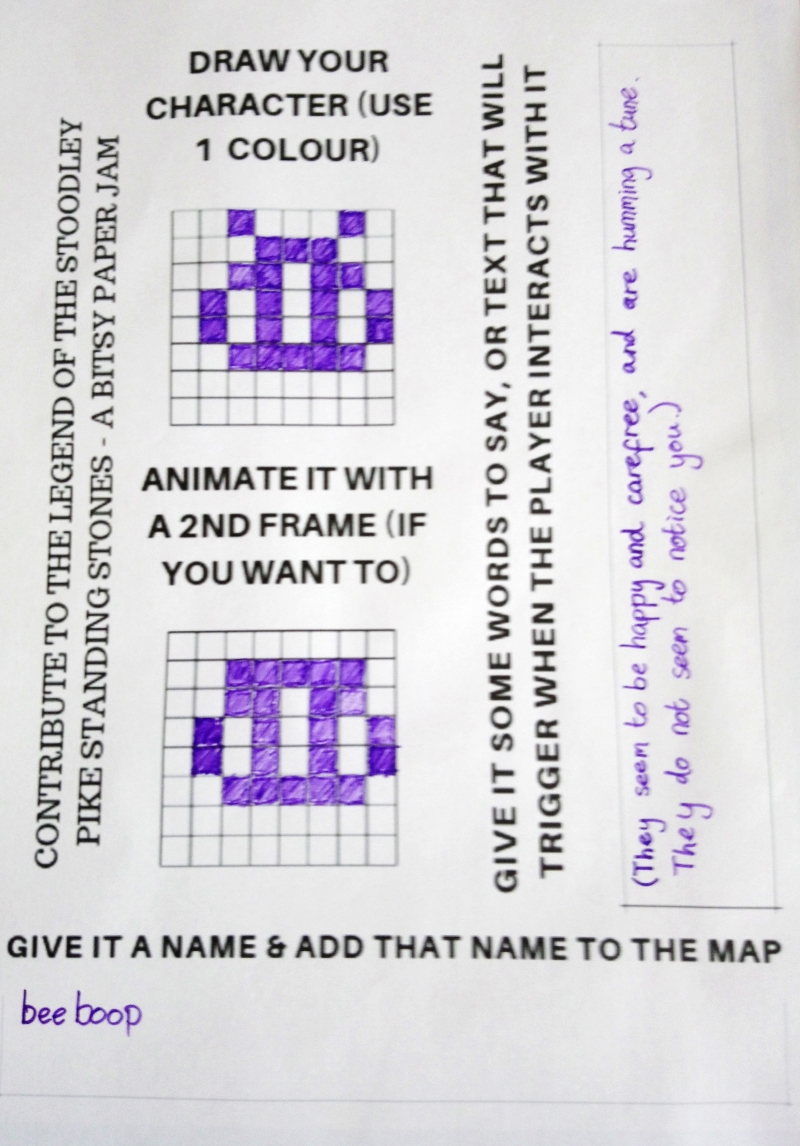 Here you can see some of the character names added to the map.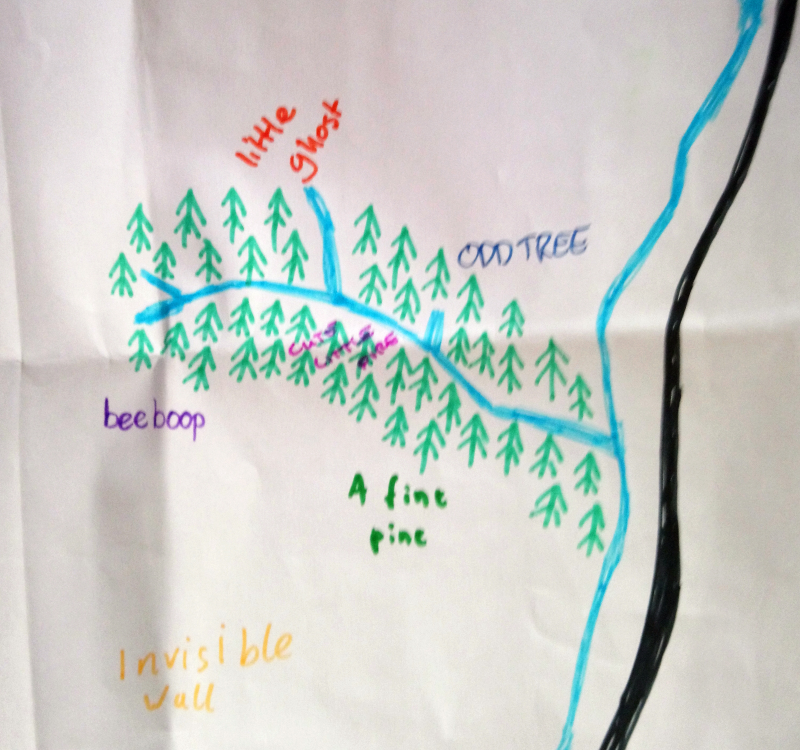 4. I turned the hand drawn map, sprites and dialog into an actual playable Bitsy. In hindsight it might have been better to create the map in Bitsy prior to the workshop and print that out - just because it took a while to turn it into an actual Bitsy that was similar to the hand drawn map. That said it was also fun challenge to turn it into a Bitsy map. Also, it would have been easier to use a limited set of pen colours for the sprite characters - just because of colour clash and trying to get a background colour that worked well with all the characters and the setting.
Here's the Bitsy version of the above hand-drawn section of map.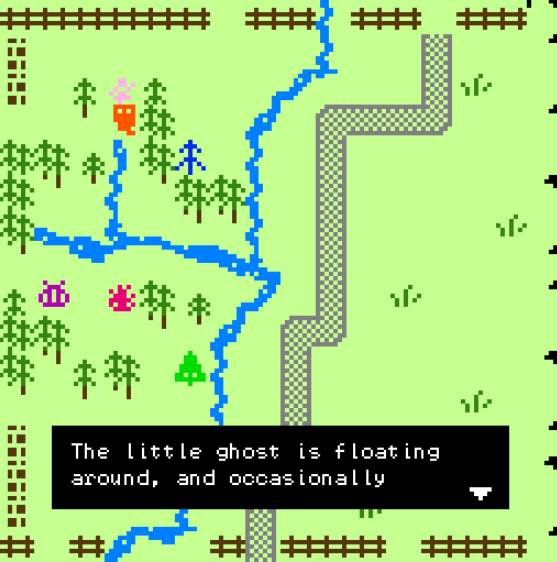 The session went well - the Bitsy itself has parts of the story built up via the characters. Some related to the legend, others related to other characters created for this specific Bitsy, and others weren't related to the legend at all. This last group of contributions was perfectly fine and valid and made things more interesting, as the theme was really just a way to give people a jumping off point for the story - rather than just saying "Here's a blank piece of paper... add something to it please."
Anyway, it was low tech, hassle free and fun to do. :)
Files
Upload.zip
Play in browser
Jun 09, 2019